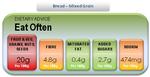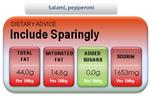 A new front of pack labelling system was put forward by Sanitarium today "in order to advance the discussion of front-of-pack labelling tools in the interests of promoting better public health".
While public health experts call for traffic light labelling (TL) and food manufacturers prefer percent dietary intake (%DI) labelling, there is no doubt that both systems have limitations.  Sanitarium is to be commended for developing an alternative concept and putting it out for discussion.  It would certainly be an extremely wonderful thing to have one system, agreed to by industry, public health and government alike.
A brief report, outlining the system developed by Sanitarium is available.  It is clear that they have some public health heavyweights on board, with the report's supportive foreword written by Michael Moore, CEO of the Public Health Association of Australia.
Certainly examples of food manufacturers, public health experts and other sectors working together need to become more commonplace in order to improve the health of our communities.  It infuriates me that truly collaborative approaches are not very common (at least in New Zealand), but that's a matter for another blog…
It's also very encouraging that online Australian consumer research shows that consumers find the concept easier to understand than both TL and %DI labelling.  It's not clear whether that's due to the single traffic light colour for each food, the fact that positive food components are included, or something else.
Clearly the details (categories of products, nutrients included, criteria and terminologies) are still up for discussion and debate, but it's really great to have a starting point from which to potentially develop an agreed joint approach.
What seems to have been overlooked by the Blewett report, and others, including Sanitarium, is the well researched and comprehensive e-mark labelling system, also a viable alternative to TL or %DI labelling.  In fact the e-mark encompasses more nutritional information, is more scientifically accurate and yet is presented to consumers in a more simple way.  It also has the advantage of being less judgmental, avoiding the classic traffic light colours.  Though somehow the e-mark is just not taken seriously.  Potentially because it is not known about in Australia?   Is it the cost?  Certainly the idea of a universal system involving no fees for use, such as that put forward by Sanitarium, is advantageous.
My fundamental concern remains with finding ways for improved knowledge to drive actual behaviour.  Internationally we are yet to see a front of pack labelling system which drives healthy food consumption.  Sadly this is because comprehension of healthy eating messages doesn't influence actual eating behaviour.  If that were true all dietitians would have a BMI between 19 and 23 (we certainly don't) and we would never let a morsel of "eat sparingly" food/beverage pass our lips (we certainly do, more frequently than we'd like to think).  We're only human, and the way we all live our lives and interact with food is exceptionally complicated.
I'd love to read your opinions about the new proposed labelling approach and any thoughts you might have about encouraging people to prioritise health over all else.  Post a comment below.
---
Categories: Health Promotion, Nutrition and Health
Tags: Blewett Report, collaborative approach, e-mark, eating behaviour, Front of Pack Labelling, Healthy Eating System, Percent Dietary Intake labelling, Traffic Light Labelling